Happily having Windows 8 Release Preview version iso downloaded, and i came across this problem when trying to create a new virtual machine using VMware Workstation.
Your PC needs to restart. Please hold down the power button. Error code 0x0000005D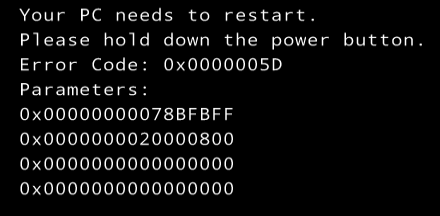 This problem is due to your BIOS setting is not setup properly to run the VM.
For my case, I'm using HP ProBook 4310. Below are the steps to solve this problem
1) Reboot PC and press F10 to go to BIOS Configuration page.
2) Enable "Data Execution Prevention" (some motherboards name this option as "No-Execution Memory Protection")
3) Save the changes and restart the PC.